HDMI Input and the suggested stream quality as below,
HDMI Input
Stream Quality
Stream Resolution
1080i@50/60
Super
1920*1080P@25/30
Ultra
1440*1080P@25/30
720P@50/60
Excellent
1280*720P@

25/30 50/60

Good
1120*630P@

25/30 50/60

Fair
960*540P@5

25/30 50/60

Poor
800*468P@25/30 50/60
Mobile
480*270P@

25/30 50/60

Detailed Products Information
OPR-TS8000 - The standard 1 U chassis (45x482x250MM) with 8 Channels HDMI Card, power consumption is less than 70W.
Product Connection Diagram

Software - Setup & Run

Can control each stream, also supports make stream to third party server, such as make stream to ustream.






Setup
1) Click on the Channel drop-down list, chooses a channel number (1~8).
2) Click on the Quality drop-down list, choose an encoding quality:
3) Activate the RTMP settings bar (selected means activation), input the address and audio delay (0~8000 ms) of the streaming media server.
4) Activate the UDP/RTP settings bar (hook means activation), type the address, port number (1024~65535) and audio delay (0~8000 ms) of the streaming media server.
5) As a comparison (or reference) input, you need to set the channel number of its corresponding.
6) Set new Logo and its location: activate "Add Logo Enable" function (hook means activation), the converted logo file into the specified directory, type x and y coordinate.
7) After all settings are completed, click the "Save" button to save and exit.

Accessores - Virtual HDMI Display Adapter
Virtual HDMI Display Adapter is a device to cheat the computer connected with a HDMI display, when our Encoder connected by Teamviewer or your HDMI display not always on, you can connect it to encoder display port instead of HDMI display.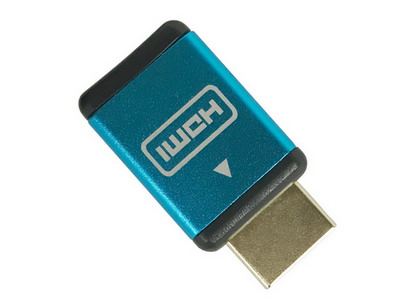 Input Interface: 8-Channel HDMI
Supports Input HDMI: 1080i@50/60,1280*720P@50/60.
Output Interface: ASI & RJ45 100/1000Mbps
Output Protocols: RTMP/UDP/RTP/HTTP
Software: Preview & Live Stream Broadcast
OS: CentOS
Display output: DVI / HDMI
Power: AC110/220V 50/60Hz